The Queen of the Skies and Innovation
Innovation, regulation, and more.

The Seattle Times has a story today about how "50 years ago today, the first 747 took off and changed aviation." It's true. The 747 was a marvel of engineering and luxury. The book by Joe Sutter is a great story of engineering leadership. For an upcoming flight, I paid extra to reserve an upper deck seat before the last of the passenger-carrying Queens of the Skies retires.
And in a way, the 747 represents a pinnacle of aviation engineering advancements. It was fast, it was long range, it was comfortable. There is no arguing that today's planes are lighter, quieter, have better air, in seat power and entertainment, but I'm still happy to be flying on one, and there are still a few left to be delivered as cargo airplanes until 2022. (You can get lost in the Wikipedia article.)
And I want to talk a little not about the amazing aircraft, but about the regulatory tradeoffs made for aircraft and for computers.
As mentioned, the 50 year old design, with a great many improvements, remains in production. Also pictured is what's probably a 1960s era Bell Systems 500 (note the integrated handset cord). Now, if 747s crashed at the rate of computers running Windows, there wouldn't be any left. Regulation has made aviation safe, but the rate of innovation is low. (Brad Templeton has some thoughts on this in "Tons of new ideas in aviation. Will regulation stop them?.")
In contrast, innovation in phones, computers and networks have transformed roughly every aspect of life over the last 25 years. The iPhone has transformed phones from phones into computers full of apps.
This has security costs. It is nearly impossible to function in society without a mobile phone. Your location is tracked constantly. A vulnerability in your phone leads to compromise of astounding amounts of personal data. These security costs scale when someone finds a vulnerability. Bruce Schneier has written recently about how this all comes together and leads him to say that even bad regulation is probably better than no regulation.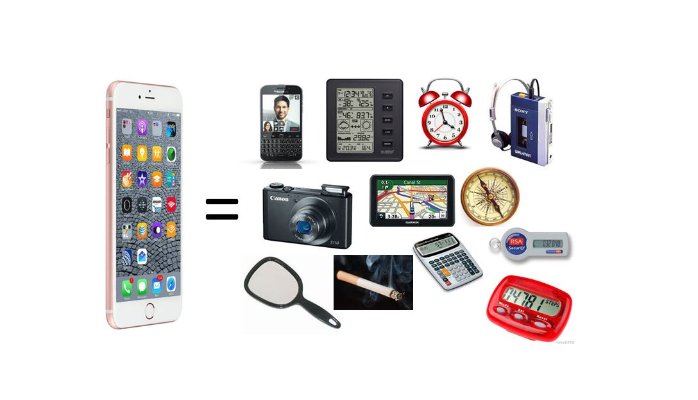 In some ways, we're already accepting these controls: see "15 Controversial Apps That Were Banned From Apple's App Store," [link to https://www.cheatsheet.com/gear-style/kinds-of-apps-that-apple-has-banned-from-the-app-store.html/ no longer works] or "Google has 'banned' these 14 apps from Play Store." Controls imposed by one of the two companies wealthy enough to compete in mobile phone operating systems are importantly different from government controls, except of course, when those companies remove apps at the behest of governments.
I don't know how to write regulation that allows for permission-less innovation at the pace we're used to, and balances that with security and privacy. Something's likely to give, and we need to think about how to make the societal tradeoffs well. Does anyone?
(Lastly, speaking of that upper-deck reservation, I want to give a shout-out to TProphet's Award Cat, who drew my attention to the aircraft type and opportunity.)