We Live In Public, The Movie
One of the best ways to upset someone who cares about privacy is to trot out the "nothing to hide, nothing to worry about" line. It upsets me on two levels. First because it's so very wrong, and second, because it's hard to refute in a short quip.
I think what I like most about "We Live In Public" is how it shows how well that nothing to hide idea screws with people's lives. The movie is the story of Josh Harris and some bizzare experiments he ran, including putting 100 people under constant surveillance and interrogation in "Quiet," a bunker under New York City with free flowing drugs. After that screwed a lot of people up, Josh and his girlfriend decided to "live in public" on the web. Roughly quoting "after a fight, we'd both run to see who the people watching thought had won it." In many ways, it was unpleasant to watch, in the way any view of dystopia is.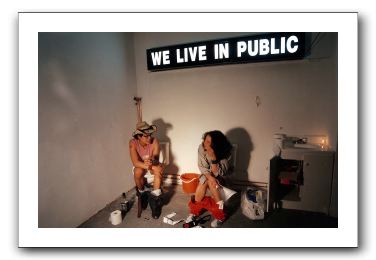 The movie was one of my favorite parts of the Privacy Enhancing Technologies Symposium, and not just because it was the end and I got to kick back with a beer while we watched. It was my favorite because we talk a lot about privacy in very technical ways: what it means, how to protect it. We talk less about the why or the communication of it. The movie was pretty impactful for a lot of us. One of the best, and perhaps most post-modern was having a Skype conversation with the director, Ondi Timoner, after the screening. (Another member of the household stopped by, said hi, and covered the camera. And sorry about the butt-in-camera, Ondi, we had the beer near the laptop running Skype.)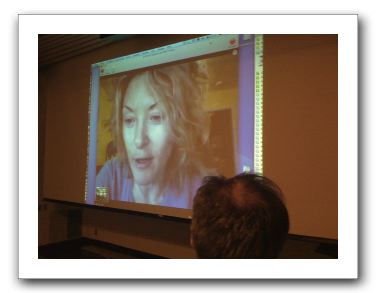 In the future, we're inspired to have more art at the conference, and I'd encourage all of you to see We Live in Public. It's currently in limited engagements [Updated with links]:
8/28 – IFC Center, NYC
9/4 – Brattle [link to http://www.brattlefilm.org/brattlefilm/index.html no longer works], Cambridge
9/25 – NuArt [link to http://www.landmarktheatres.com/Market/LosAngeles/NuartTheatre.htm no longer works], Los Angles
10/2 – Roxie – San Fransisco, CA
10/9 – Alamo Draft House – Austin, TX
10/16 – Music Box – Chicago
11/13 – Landmark Varsity – Seattle
You can also follow @onditimoner on Twitter, read the blog about the movie, or get in touch with her by Skype..no, just kidding. I think she deserves some privacy.