More airport security toys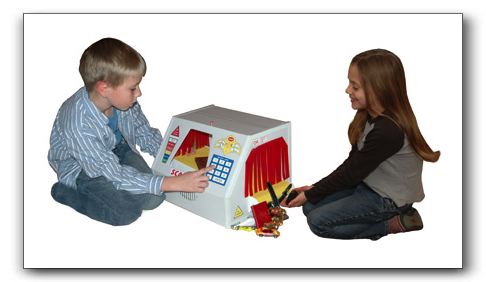 "Let's play 'airport security'," [link to http://blog.foreignpolicy.com/node/8234 no longer works] says Foriegn Policy. It's like playing Doctor, only with latex gloves and inappropriate touching.
In an effort to help children understand and be comfortable and confident in the need and process of higher security protocols we've developed a new play and learning toy and resource web site to promote and educate security procedures.
It's not really clear who "we" refers to here. The operationcheckpoint.com, also refers to "SampleRewards.com." That sounds like the sort of pliable marketing channel who'll sell anything for a buck, so maybe it's not them who's really behind this thing. OperationCheckpoint has four different names on a single landing page. (OperationCheckpoint, SampleRewards.com, Wizard Idustries and Product Exposure Services.) If only we had ID for the forces of evil. Maybe these guys could carry sample National ID cards, and kid's tattoo guns, too.
Previously, "From the mouths of toymakers:"