When Planes Fell From the Sky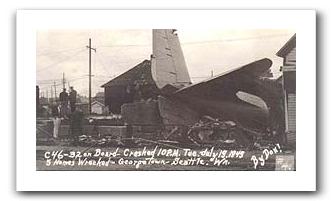 The excellent 'Notes from the Technology Underground' has some personal recollections of "when planes fell from the sky:"
In the 1950s, planes crashed with alarming frequency into city neighborhoods near the Minneapolis-St. Paul airport. At least one devoured a house nearl where I now live, in Southwest Minneapolis. I heard from older neighbors about the time an airplane crashed in my neighborhood. It set me to thinking. Here's my story on it…

While his story seems like one of incredible bad luck and improbability, it really isn't so. In fact, my research shows that in the years 1950 through 1956, planes fell from the sky on south Minneapolis with astounding frequency — dramatic enough to make news, but not so unusual to be considered really exotic.
What Bill Gurstelle doesn't talk about is how the airline industry stepped up and fixed the problems. It was an aggressive and purposeful embrace of transparency. Accidents got investigated, written up and talked about. Lessons were analyzed and taught. And air travel got safer. It reminds me of the bad old days of hiding vulnerability information and breach reports. We didn't talk about buffer overflows, and from 1973 to 1996, there was no class fix for them. It was the same thing with breaches. Some people wanted to 'save the organization from embarrassment.' I'm so glad we in information security are past that, and are learning lessons from each other's mistakes.
Photo from Washington State Historylink.