DHS Spokesman Brian J. Doyle Arrested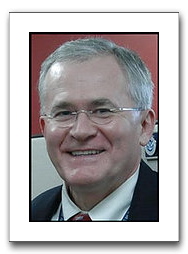 The deputy press secretary for the Department of Homeland Security was
arrested last night on charges that he used the Internet to seduce an
undercover Florida sheriff's detective who he thought was a
14-year-old girl, the Polk County Sheriff's Office said.

Brian J. Doyle, 55, was arrested at his Silver Spring home at 7:45
p.m. and charged with seven counts of using a computer to seduce a
child and 16 counts of transmitting harmful materials to a minor,
according to a sheriff's office statement.
See "DHS Spokesman Is Accused of Soliciting Teen Online" [link to http://www.washingtonpost.com/wp-dyn/content/article/2006/04/04/AR2006040401973.html no longer works] at the Washington Post.
While I hate to make light of such a disturbing story, it's a good thing Choicepoint screened all those TSA employees [link to http://www.tsa.gov/public/display?theme=81&content=090005198002d4e5 no longer works], to make sure no bad people get through. (Doyle worked for TSA before moving to DHS.)