SIRA Meeting Thursday – Flaw Of Averages
Hey everyone.  The Society of Information Risk Analysts (SIRA) would like to invite you to our November meeting this Thursday at 12 noon EST.
Here's a link to a meeting invite: http://bit.ly/d7IHn7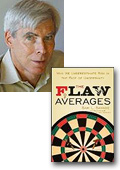 This month, we'll have Sam Savage, author of the excellent book, The Flaw Of Averages join us.  He'll be talking about the book and taking our hard questions about information risk management and risk analysis.  This should rock pretty hard.